Most homeowners know the importance of maintaining their roof in general. However, many dismiss the relevance of caring for their gutters specifically, or having them installed properly in the first place. Faulty gutters can cause serious and expensive problems, such as leaks and water damage.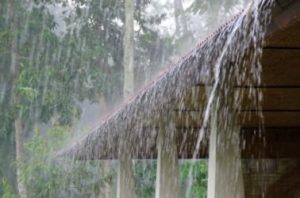 For gutters to do their job, they require proper maintenance and cleaning. Clogged gutters can cause water to seep into the house and down internal walls. Leaves and other debris left in gutters can become a fire hazard during the dry summer months. Debris isn't the only problem. Gutters are designed to hold a certain amount of weight. The strain of accumulated snow and ice can harm the roof itself.
As a homeowner, you want to prevent these problems for occurring. That is why your gutter needs to be installed correctly and maintained regularly. Many roofs lack a properly installed gutter system on each edge that is sloped, with downspouts correctly fastened. It's important that these downspouts direct the water no less than 10 feet away from the foundation.
How often you should clean your gutters depends on the number of nearby trees and the roof's slope. If there are many trees shedding and dropping leaves into the gutter, the gutter should be cleaned at least twice, perhaps more, each year, preferably by a professional roofer able to prevent problems before they arise. A dammed gutter can make a very comfortable home for a variety of pests and insects.
While homeowners may opt to clean their own gutters to save money, a neglected gutter can cost you thousands in future repairs.
Sometimes, homeowners use leaf guards to keep their gutter free of leaves. Some of the leaf guards work, while others can cause a serious leaf buildup. None of them are maintenance-free, and most leaf guards still let up to 20 percent of debris into the gutters, requiring the guard be removed regularly for proper cleaning. The cost of higher-end leaf guards can be greater than hiring a professional roofer over the period of several years.
The best time to have a professional evaluate your gutter's condition and needs is in the fall months, when falling leaves are at their most active. In some areas, leaves fall during the entire year, requiring more consistent maintenance.
Many homeowners feel they can clean their own gutters. That is certainly true, but thoroughly maintaining your gutters in top condition can present risks, both to your home and to yourself.
The obvious risk is needing to climb a ladder. Injuries due to falling off ladders account for 99,000 visits annually to the emergency room. Also, many homeowners lack the proper pressure washer needed to clear all the debris from the gutters, thus just postponing potential problems. The pressure washer itself can cause injuries when used improperly.
A professional roofer has the proper harness and equipment to do the job safely, quickly and correctly, thus possibly saving you money in the long run. In addition, they are trained to spot potentially small problems before they turn into costly nightmare.
If you are considering having a professional roofer evaluate the condition of your gutters, be sure to choose a roofer with a professional reputation whose employees carry proper liability and workers' compensation insurance. A reasonably priced professional today can save you from thousands of dollars of unnecessary repairs in the years to come.
Call A+ Roofing, a fully licensed, bonded and insured company that will offer you free property inspections and insurance claim assistance. Phone: 630 227 1111 or Call Toll Free: 866.878.9900